I am a genetic genealogist, genealogist, dog lover, and World Champion Bridge player.  For more about my genealogy try my family history site. For more about my genetic genealogy and genealogy research see my blog at blog.kittycooper.com – this page is about my Bridge history.
I love this card game. I learned to play when I was 12, but didn't start competing in tournaments until after I graduated college, Harvard University 1972 cum laude. These days I mainly partner my girlfriend Lynne Feldman.
I have been teaching Bridge since 1990. At first I mainly taught adults the club series and some more advanced classes of my own devising. Many of these are available on this site. But I felt strongly that it was important to get young people playing, so when I moved to Albuquerque in 2000 I got involved in starting a Schools Bridge program with Felicity Reid Moore. More about that, including our teacher's manual prepared with the ACBL, is available on my For Teachers page.
My first Bridge-playing triumph was novice player of the year in Boston in the 1973-1974 season. Interestingly enough my late husband Steve won the same title in NYC in 1974. This was before the MiniMcKenney races or he probably would have won that too.
Since then I have won a few more things,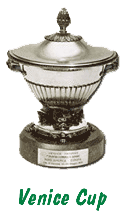 including a World Championship, a Common Market Championship, and a number of National titles. Here are some details.
The 1989 Venice Cup is the World Championship that my teammates and I (as Kitty Bethe) won for the USA.
Although I am an American by birth, I competed internationally for the UK while living in London in the mid-80s in partnership with Liza Shaw and for mixed events, Barry Rigal. Together with Barry's then partner Peter Czierniewski, the four of us won the Common Market Mixed Teams Championship in 1987. Liza and I also played on the British Ladies team, finishing 3rd in the European Championships.
Other high world finishes (as Kitty Munson) are a silver medal in the Venice Cup in 1995 with my woman partner Carol

Simon, a 4th in the World Mixed Pairs in 1986 for Britain with Barry, and last but not least, 5th-8th in the 1994 Rosenblum Open World Teams with long-time former partner Larry Mori.
I have also won 8 National championships (3 open, 2 women's, 2 mixed, 1 nonLM) including two with my late husband Steve Cooper. I have won the North American Open Swiss teams three times, most recently partnering my husband, Steve Cooper, previously in partnership with former husband, the late Henry Bethe, and the other time with former partner the late Larry Mori. My next best event has been the Women's Swiss, one win, two seconds, and a few other high finishes. As Kitty Munson, I won the Wagar Women's KO teams, in partnership with Carol Simon. So far though the best my women's team and I have managed in the Women's Board a Match is second. Also in the Master Mixed Teams, I have been second twice, once with my husband Steve and once with Helgemo on Rita Schugart's team. In the Reisinger board-a-match I have been 6th (with Larry). Finally my matchpoint titles were the Senior Mixed Pairs with Steve, Mixed Pairs with Larry and the last ever National Advanced Senior Masters Pairs in 1975 with Rob Schachter.